The Ontario Council of University Libraries (OCUL) Historical Topographic Map Digitization Project is a province-wide collaboration to inventory, digitize, georeference, and provide broad access to early topographic maps of Ontario. The collection provides open access to georeferenced topographic maps at the 1:25,000 and 1:63,360 (one inch to one mile) scales, covering towns, cities, and rural areas in Ontario over the period of 1906 to 1977. The project adds over 1000 maps to our collective digital holdings.
Topographic maps at these scales are heavily used by researchers interested in examining changes over time, such as urban sprawl, transportation patterns, diminishing woodlots, or shoreline erosion.
For more information, visit the GeoPortal or the project website.
What maps are part of this collection?
This collection includes over 1000 maps of Ontario created between 1906 and 1977 as part of the National Topographic System.
What can I learn from historical maps?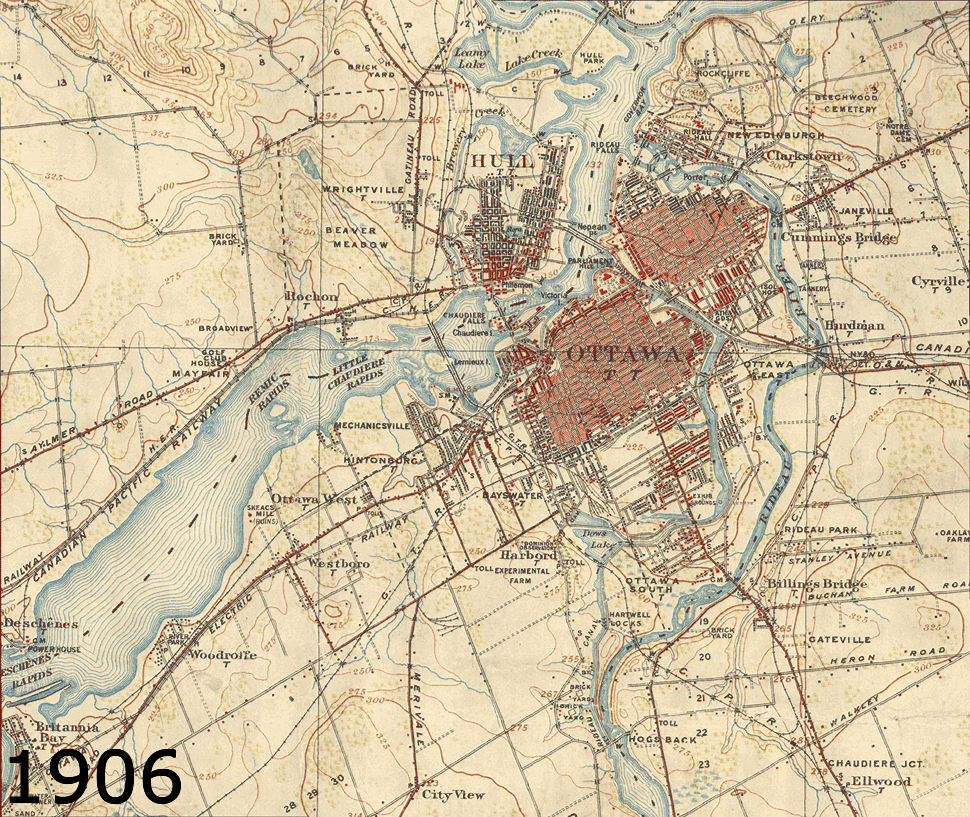 This collection of maps allows you to see how the same area changes over time.  The above gif of downtown Ottawa, for example, shows the extent of urban expansion and the increase in paved roads between 1906 and 1948.
More examples of change over time can be found on the Collection Highlights page.
How do I access these historical maps?
You can download JPG files of any of the individual maps on the project website.  However, using the GeoPortal to view the maps allows more options for analysis, including the ability to overlay maps.
Learn more about using the GeoPortal to view and analyze historical topographic maps here or in this brief video tutorial:
Can I reuse these maps?
Yes! These maps are completely free to use and in the public domain, you are free to adapt and re-use them in a publication of any medium. Please be sure to properly cite the maps, and acknowledge their source. You are also welcome to download, copy, modify, adapt and print these maps (they make wonderful wall art!).
If you want to share how you're using the maps, feel free to contact the project team or tweet at @scholarsportal!